Friendly friends on Hue Tour
Lowell and his friends took a tour of Hue which gave them wonderful experiences. Just about 654 km south of Hanoi Capital and 1079 km north of Ho Chi Minh City, Hue is a peaceful city full of historic monuments . It was the national capital under the last dynasty from 1802 to 1905. Through ups and downs for almost a hundred years,  Hue still retains many historical and cultural sites. This former capital was recognized as a World Heritage Site in 1993 and its Royal Music was honored to be a World Cultural Heritage in 2013.
Morning: Thien Mu pagoda and An Hien garden house.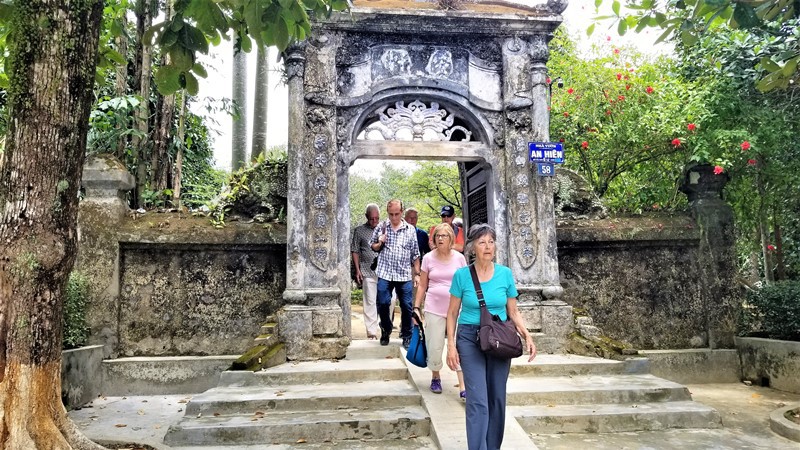 At 8 o'clock, we gathered in Thanh Lich Royal Boutique for a short transfer by bus to the dock. Here a boat took us to Ha Khe hill where Thien Mu pagoda is located.
Thien Mu is a very beautiful pagoda, just 7 km west of Hue city center. It was initially a thatch roofed shrine. Several kings and dignitaries contributed to the construction as well as attended ceremonies here. Due to unfavorable nature and social conditions, the pagoda has under gone many restorations. Thien Mu is one of the most attractions in Hue.
After traveling along Perfume River for about 45 minutes, we arrived at the pagoda. Our group spent almost 1 hour hanging around to explore this sanctuary. Several members of us really enjoyed helping and spending time chatting with young students. Afterwards, we drove to An Hien traditional house, a great example of Hue Garden House.
An Hien is a peaceful place built in harmony with nature. We could see many types of fruits and flowers from different regions grown here such as durian, mangosteen, dragon fruit, apricot, persimmon, litchi, fig and strawberry.
Afternoon: Khai Dinh mausoleum and Hue citadel.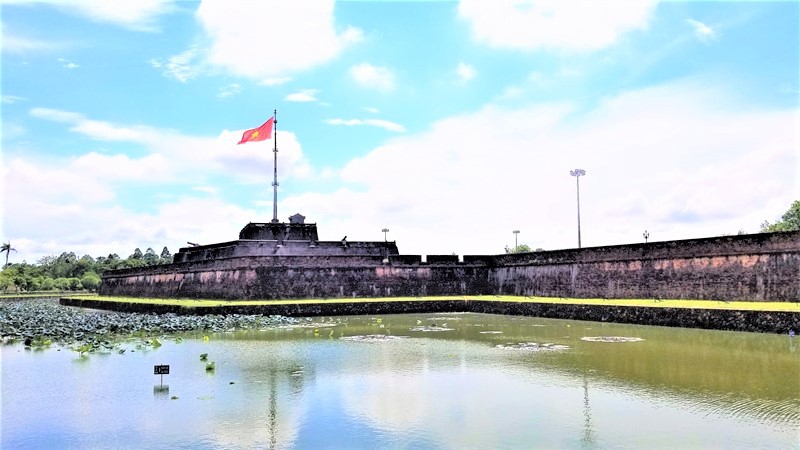 We drove to Chau Chu hill where Khai Dinh mausoleum is located. In 1916, Khai Dinh became the king. Four years later, he ordered to build his mausoleum featuring a mixture of Western and Eastern style architecture. The king used lots of oversee materials for the construction. Beside that, a large number of artisans came here to complete this complex. Its interior decoration features colorful mosaics made from millions pieces of ceramic and glass. It is like a museum of fine arts with elaborate design. Although this mausoleum is small, it costs much more than other kings' mausoleum.
After spending one hour in the mausoleum, our driver took us to Hue Citadel where kings, royal families and highest ranking officers worked and lived under Nguyen dynasty. This is the final dynasty in Vietnam, lasting from 1802 to 1945.
Hue Citadel was built from 1805 to 1832. It is square in shape, almost 10 km in circumference with 3 concentric enclosures: City, Imperial City and Forbidden City. Due to important role, tens of thousands of workmen labored to complete over 300 temples and other buildings within 30 years.
Hue Tour – An interesting destination for their vacation
Hue becomes one of the most interesting destinations for Lowell and his friends on their vacation including Hanoi, Bat Trang, Ha long Bay, Hue, DMZ and Mekong. Here is a video displaying the fantastic moments on their trip: