A wonderful destination
Ninh Binh is around 100 km – a 2-hour drive from Hanoi Capital. This area is a favored destination for travelers interested in discovering unique attractions. Indeed, it is a land gathering all elements from Natural landscapes, historic monuments, religious sites, and rustic rural life. Its favorable conditions makes this one of the top destinations in Vietnam. Here is the list of Ninh Binh highlights.
Ninh Binh Top attractions you must see!
Hoa Lu Ancient Capital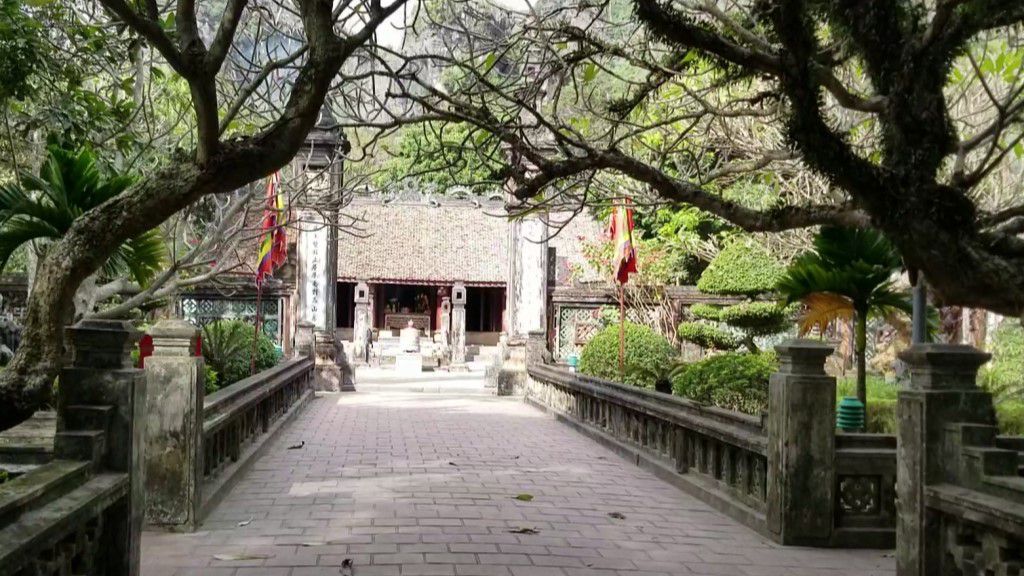 After Vietnam was united under Dinh Tien Hoang, Hoa Lu was chosen to be the capital of his kingdom in 968 A.D. It remained a political capital over 3 dynasties until King Ly Thai To made a decision to move the capital to Thang Long (currently Hanoi) in 1010. Though it is no longer a political center, there are plenty of historic monuments here. The most prominent are a pair of tranquil 11th century temples dedicated to the kings which remain to this day.
Van Long Nature Reserve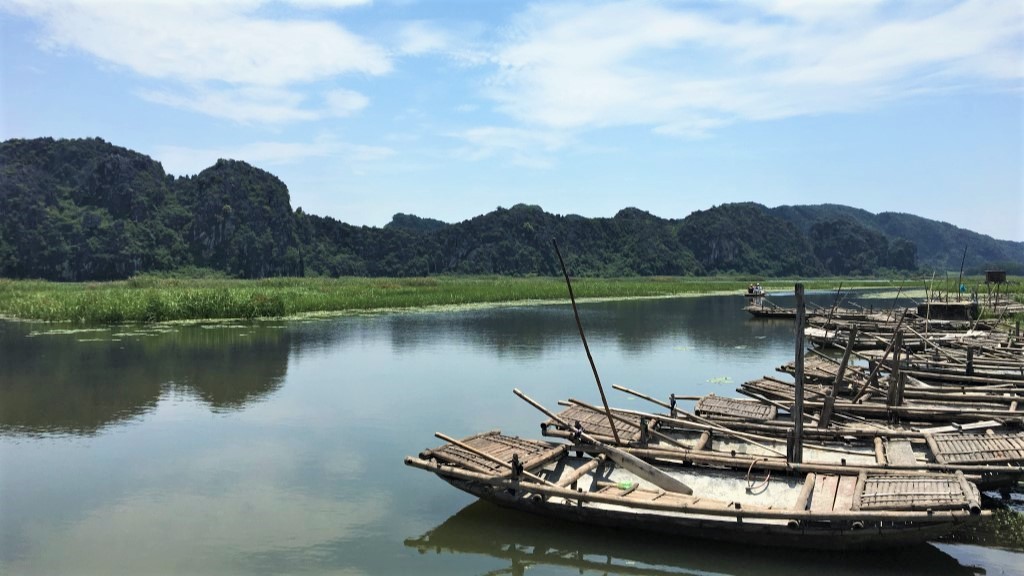 Van Long belongs to Gia Vien district, 90 km from Hanoi. As North Vietnam's largest wetland nature reserve (more than 3000 ha) as well as home to many langurs, Van Long is a popular eco-tourism destination. The best way to explore this unspoiled landscape is by boat. A small rowboat will take you through high reeds near the beautiful limestone mountain ranges.
Bai Dinh Pagoda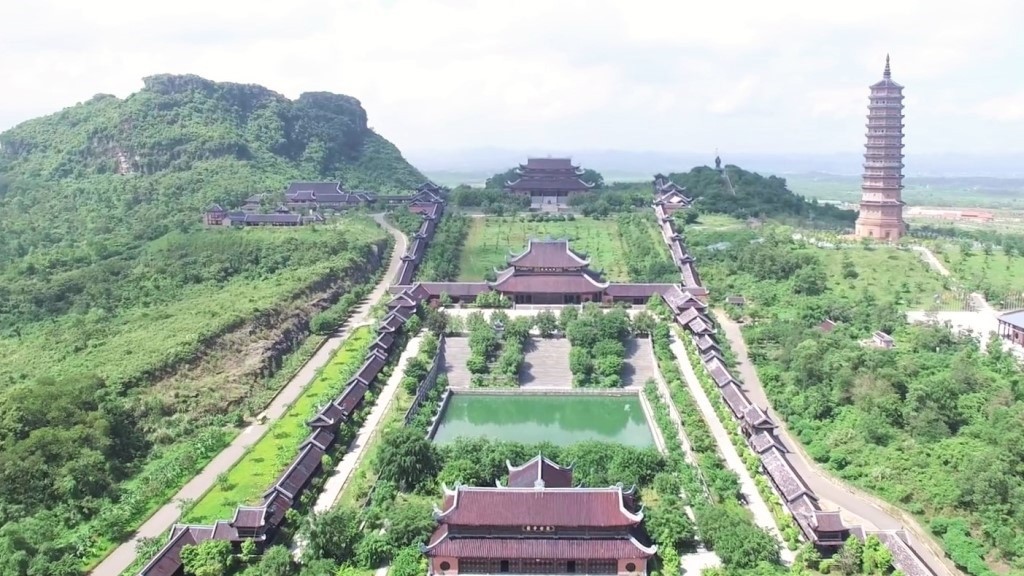 Bai Dinh is a spiritual and cultural complex covering an area of over 500 ha. It includes several pagodas, towers, ponds, and gardens. It is the largest temple complex and holds many records: the largest gilded bronze Buddha statue (100 tons) in Asia, the heaviest bell (36 tons) in Vietnam, and the longest corridor with 500 Arhat stone statues (almost 3 km).
Trang An Scenic Landscape Complex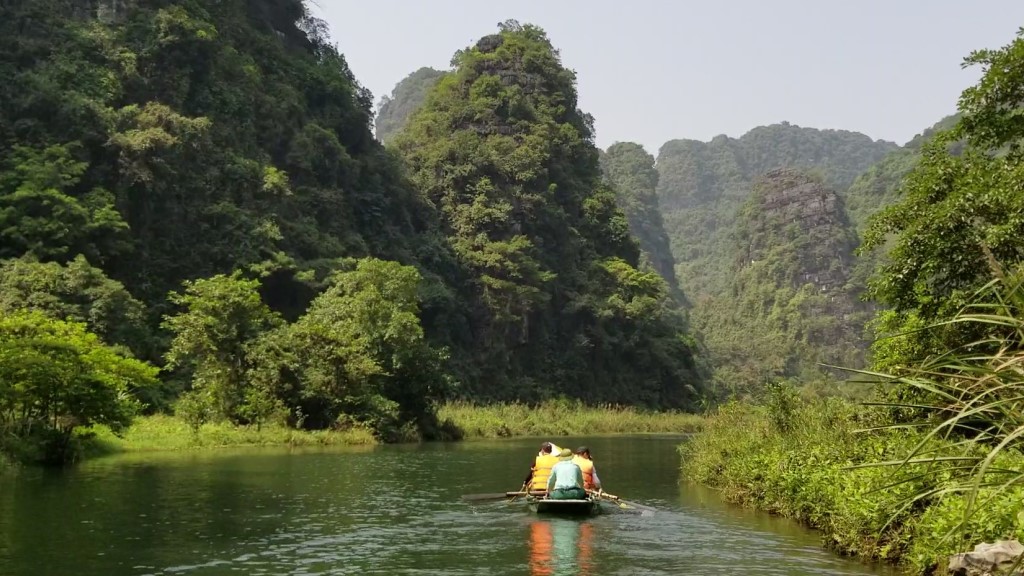 Trang An, 7 km from Ninh Binh city, was honored as a UNESCO World Heritage Site in 2014. This unique location is a cluster of limestone mountains, temples, pagodas, rivers, and caves. The mixture of culture and nature makes this place one of the top highlights in Ninh Binh. To explore this picturesque wonder, a rowboat excursion is the most effective.
Hang Mua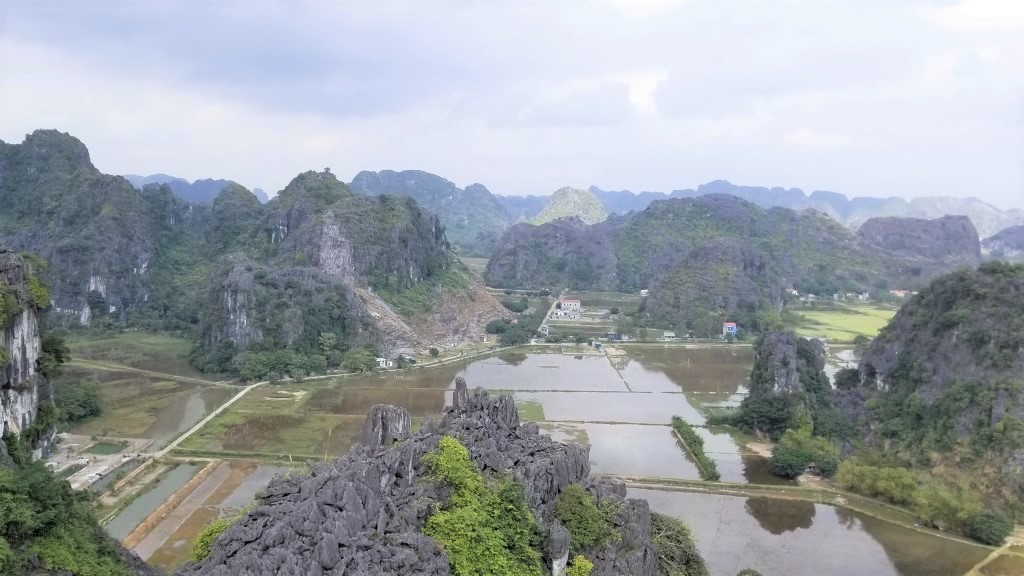 Hang Mua is located in Ninh Xuan village, just a few kilometers from Trang An. There are two main spots: Mua Viewpoint (mountaintop) and Mua Cave (on the foot of mountain) – Don't miss out on these attractions! Mua Viewpoint is at the top of 486 stone steps to reach this special spot where you will find a gorgeous panorama of the countryside.
Thung Nham Bird Sanctuary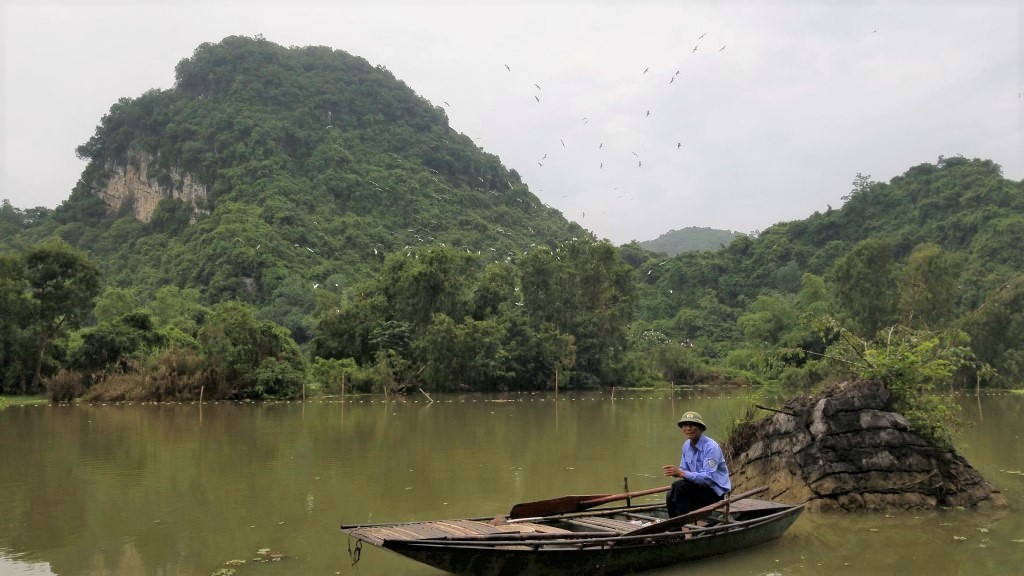 Thung Nham has a wide ecosystem covering an area of more than 300 ha. The sanctuary is home to about 48 species of birds and 150 species of animals. There are several interesting activities you can join here: exploring the beauty of caves and grottos by boat and on foot, admiring the birds when they are back home in late afternoon, and taking a cycling or walking tour to discover the limestone forest park.
Thien Ha Grotto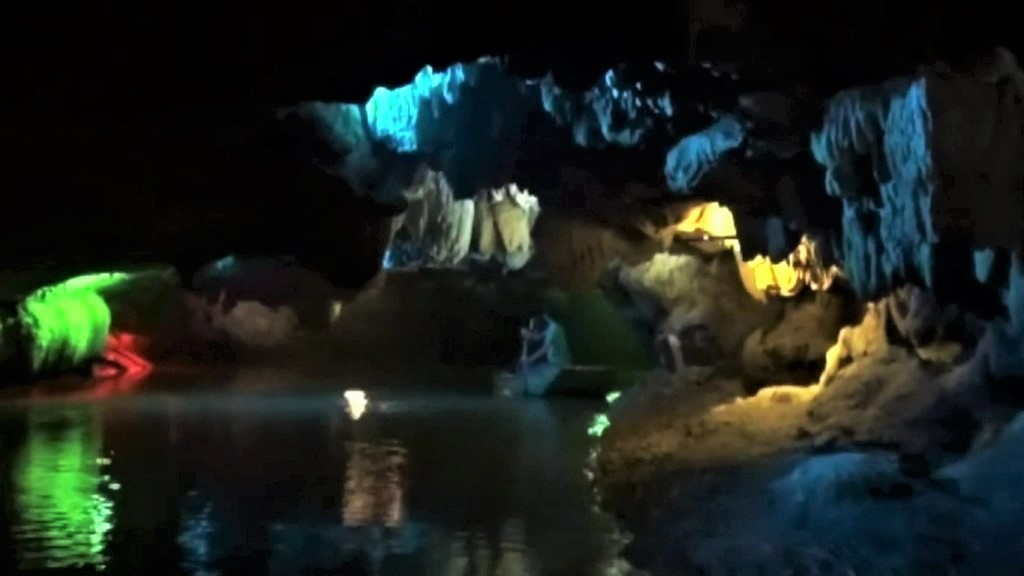 The grotto belongs to Son Ha village, 23 km from Ninh Binh city. The cave covers an area of around 12,000 sqm, and is about 700 meters long including the dry cave (200 m) and wet cave accessible by rowboat (500 m). With a system of amazing stalactites still in the process of development, Thien Ha is one of the most beautiful caves in Ninh Binh.
Phat Diem Cathedral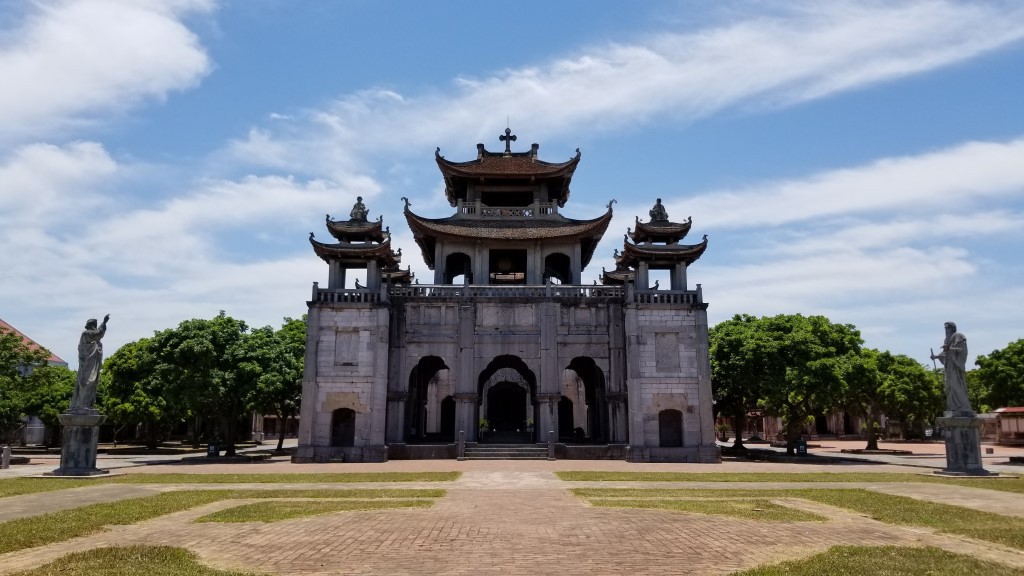 Phat Diem is a cathedral with a unique architecture resembling a Vietnamese pagoda. The cathedral was constructed from 1875 to 1899 by Father Six. Based in an area of 2 ha, it houses a lake, a grand cathedral, 5 chapels, 3 artificial grottoes and a huge bell tower. The church is especially impressed with overhanging curved roofs, and a stone-structure bell tower featuring a Vietnamese communal hall.
Tam Coc – Thai Vi – Bich Dong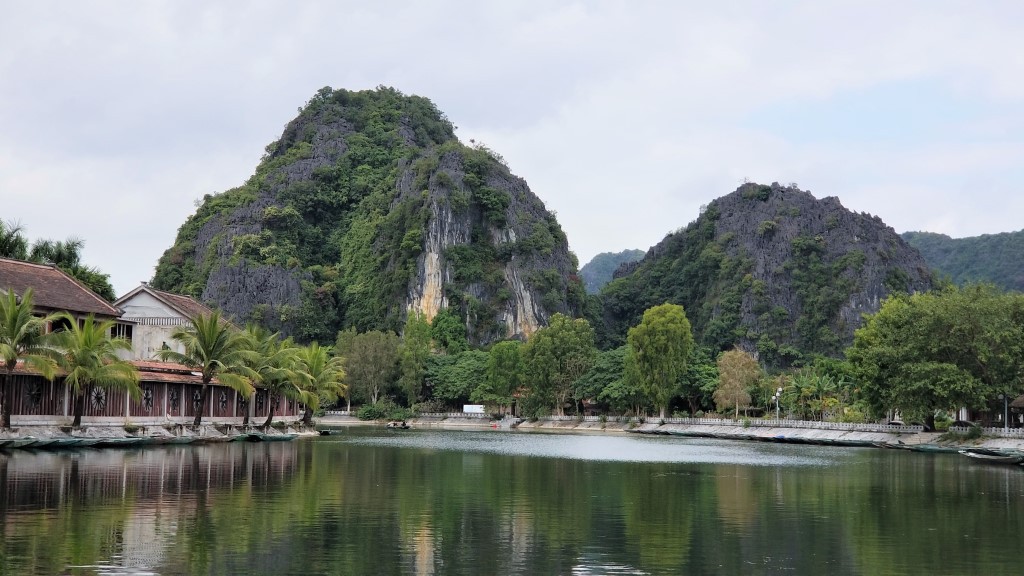 This is a cluster of attractions which includes rivers, mountains, caves, temples, and pagodas. The cluster is famous for its picturesque landscapes and convenient for many activities. Here you can take a river trip through natural tunnels, cycle through scenic routes, visit Thai Vi temple (built in 13 century), and explore Bich Dong grotto pagoda (built in the 15th century with three levels: lower, middle and upper pagodas).
The places we mentioned above are the top attractions in Ninh Binh. To see more about these highlights, please check out the link below.
➢ Attractions in Ninh Binh (video)
Ninh Binh highlights related tours
If you are interested in these sites, here are some highly recommended tours for your reference:
➺ Vietnam Private Tour 10 Days