Wonderful memories of Hanoi Food Tour
At 1:30 pm Dawn, Phil and I met up at Hanoi Hilton Hotel for Hanoi Food Tour. We walked past the French Quarter, and then continued toward the Old Quarter, one of the oldest urban zones in Vietnam. Stroll over several amazing and narrow streets. We had the opportunity to explore the beauty of the French and Old Quarters as well as sampled delicious local dishes.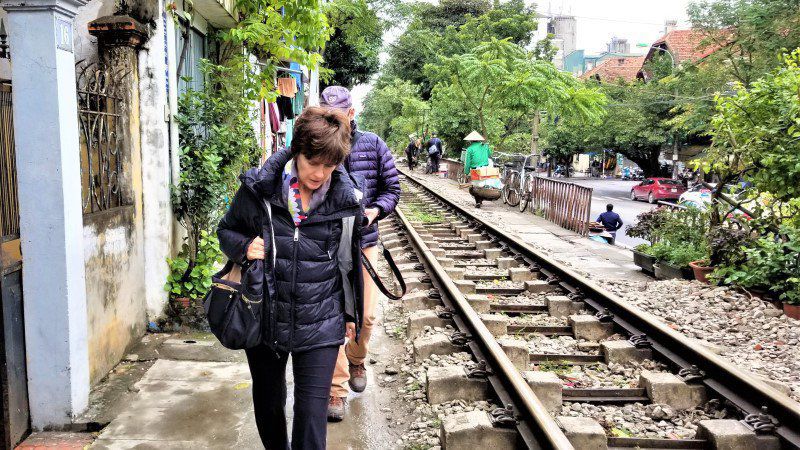 Admire elegance of the French Quarter
State Guest House was originally the Tonkin French Governor's residence.
The French constructed this luxurious building from 1918 to 1919. After the August Revolution in 1945, it was the headquarters of Viet Minh where Ho Chi Minh worked from August 1945 to December 1946. Today it is the guesthouse for the government.
Hoan Kiem Lake is the heart of Hanoi Capital. This fresh water lake is one of major scenic spots. Its name means lake of returned sword which came from a legend of King Le Loi returning the sword to the Turtle God after the victory over the Chinese invader.
Hanoi food tour with a fantastic experience
First, we stopped at a small stall trying Banh Khuc, a rice ball made of glutinous rice mixed with cudweed and filled with green bean paste, bacon, and spices.
Second, Dawn, Phil and I visited a nice local café inside an alley. Here we enjoyed Vietnamese black coffee and egg coffee, a Hanoi specialty while listening to birds singing.
Third, we stopped at a very tiny stall by the roadside and sat on very small stools trying some glass noodle soup with deep fried eel. Glass noodle (Cellophane noodle) is a type of transparent noodle made from starch (such as mung bean, potato, sweet potato, tapioca, or canna starch) and water.
Fourth, our group visited a local restaurant to have Vietnamese pho which is the most famous dish in Vietnam. Vietnamese pho (noodle soup) is a combination of rice noodles and tender slices of meat and special broth. Making a great broth is a process that takes hours – a mixture of chicken or beef bones (or both) with onions, ginger, soy sauce, fish sauce and other aromatics.
The last one is a busy restaurant serving a variety of fried food. Beside some deep fried cakes, we tried some fresh and fried spring rolls. We were all so full and enjoyed the dishes. While taking Hanoi Food Tour, we also explored some famous historical sites in Hanoi.
Discover History of the Old Quarter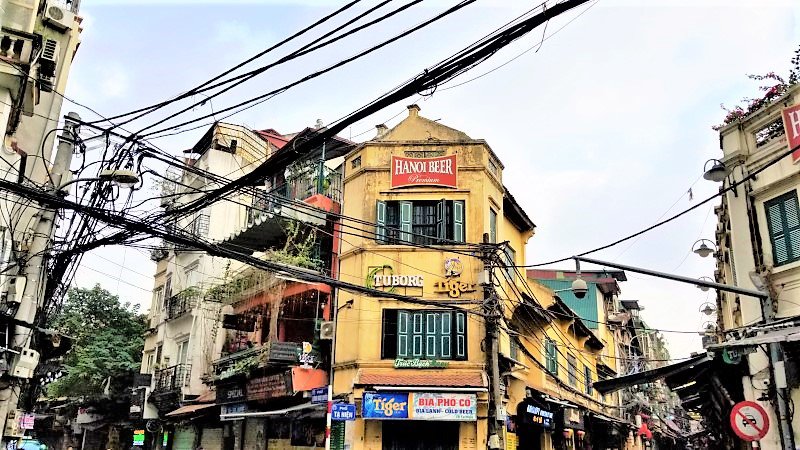 Ancient House at 87 Ma May Street was built at the end of 20th century. Though the house is not the oldest, it is a well- preserved example of traditional houses featuring the typical architecture in the Old Quarter.
Quang Chuong Gate is a national relic, built in 1749. There were once 21 gates surrounding Hanoi Citadel. Through ups and downs, the gates have been ruined except for Quan Chuong. When the French attacked Hanoi, lots of local people scarified themselves to protect the citadel. It is not only a landmark gate of the ancient Thang Long citadel, but also a symbol of the spirit of the people of Hanoi.
Dong Xuan is one of the oldest and largest traditional markets in Vietnam. The French built the market in 1889 providing a variety of goods including food, clothing, electronic and household appliances.
We really enjoyed Hanoi Food Tour which gave us a great opportunity get in touch with local culture.
Reference: Hanoi highlights and related tours